>> English >>
Mio Matsuda
upcoming event online !
Mio Matsuda ''Creole Nippon through the window''  Live Streaming
Date: May 31st at 21:00~22:00 (Japan time) *early afternoon in Europe
Stream URL : https://www.youtube.com/watch?v=w_r6Bu3Qdpw
Mio Matsuda, a multilingual musician who sings from Portugal's Fado to Latin American and African rhythms, and has performed for many years with artists from European, African and Latin American countries. In recent years, she has been researching historical folk songs through archives and fieldwork with people in local areas.
"Creole Nippon" is a project that lost songs brings to life, revitalizing local memories of people attached to the nature and history. The title comes from Mio's longtime experiences in Cabo Verde, the creole archipelago in the Atlantic Ocean. The songs express Japan's creole roots and stories, created through the mixture of people interacting throughout history. Diverse Japanese songs sung by people living in the mountains, hidden Christian islands, immigrants to Brazil, Hawaii, and the South Sea tell us of forgotten histories.
As we keep social distance, this online musical performance can be an exciting way to connect the people and lands. We use the word "through the window" in the title because the window, both real and virtual, can take us on imaginary travels and inspire each other. These precious songs are a gift to share with people in the world by exchanging positive energy and affection through the window of music.
Be in touch through the window! 
Supported by EU-Japan Fest: Financial Support Program for On-line Activities #KeepgoingTOGETHER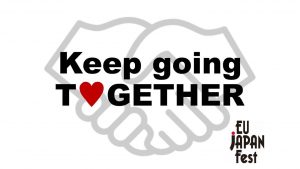 Mio Matsuda's prifile
Mio Matsuda plays a very unique role in the music world. A cosmopolitan and multicultural singer, she is a well-rounded traveler who sings in over 20 languages. For over 10 years she has collaborated with artists of various musical backgrounds, but she has a special fondness for Portuguese and Spanish speaking countries.
Her career began in Lisbon where Mio sang Fado (traditional Portuguese music) and other genres of music from Portuguese-influenced countries. In 2004, she was a featured vocalist in the festival in Minas Gerais, Brazil and in Cape Verde, West Africa. This transatlantic musical experience led her to record her first album "Atlantica," (2005 JVC) in Rio de Janeiro. On this album she mixed the sounds and atmosphere from three ports of the Atlantic Ocean. The concept of uniting varied musical roots and rhythms continued on her next 2 albums. "Pitanga" and "Asas," which were recorded in Brazil with renowned musicians such as Cristovao Bastos and Joao Lyra.
Mio's 4th album "Flor Criolla" (2010) features her alongside legendary Uruguayan pianist Hugo Fattoruso and was her debut in Spanish-speaking countries. Since 2010 she has toured throughout 6 countries in South America and recorded her 5th album "Compas del Sur,"(2011) in Uruguay and Argentina.
Mio Matsuda`s most recent project is "Creole Nippon." Therein she sheds light upon obscure and lesser-known Japanese folk songs, including the songs of Japanese immigrants amid the wider world in places such as Brazil, Peru and Hawaii. In December 2014, she released her first Book with CD "Creole Nippon, A Journey Through The Memories Of Songs." As an "earthling living in Japan," the life force with which she crosses all borders is inspiring. The spirit of the communities she has traveled through is alive in her voice, uniting the world and connecting listeners with unique and startling power.